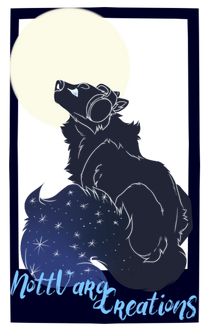 NóttVarg's Terms of Service
---
By choosing to commission me, you are agreeing to these terms. Please read through them carefully! They will also be added to any PayPal invoice sent out, and to any commission forms I post.
I reserve the right to refuse any commission, with the things I absolutely will not draw as follows:

• Arachnids, insects, and insect-like beings
• Images that trigger trypophobia (these will be considered on a case-by-case basis)
• Some kinks (please message me about these, or ask in your commission form, and I will explain what I do and do not feel comfortable with)
• CP, bestiality, feral on feral, or other abusive things

Please do not be afraid to throw me a message on my Twitter if you have any doubts as to what I can draw for you!


On the other hand, I specialise in:

• Canines, Felines, or similar creatures
• Gore (such as things you would see on a Goretober Challenge list. Here's my Goretober folder if you want examples!)
• Anthropomorphic animals
• Stylised pet portraits


You must be at least 18 to commission me, even if your commission is safe for work. This is because it is illegal to enter a contract with a legal minor, so it's just easier to work with legal adults. By commissioning me, you confirm that you are of legal age and, if you are found to be lying, your commission will be cancelled and refunded up until the amount that your piece would cost had it have just been a linework piece. The linework will then be made into a YCH and sold to make up the cost. You will also be blacklisted for lying about your age.


OPENING ANNOUNCEMENTS


I will announce that I am open for commissions on my Twitter, and this announcement will be my pinned tweet until I am once again closed. I will also announce commission openings on my Telegram Channel.


COMMISSIONING ME


Upon filling out the current commission form, which will be linked on this page when it's open, you will receive a PayPal invoice (from [email protected]) if your commission has been accepted. If you are a friend (or family member) of mine, you will have the option to pay for your commission in parts. Otherwise, I ask for the payment for a commission in full before I begin.
You will be given the option to add a tip, which is hugely appreciated but not required!

You will have 7 working days from the day that I send the invoice to pay the amount, upon which I will send a reminder to your PayPal. If you have not responded within another 7 working days then your commission will be cancelled and you will have to reapply. If this happens more than once in a short amount of time, you may be blacklisted.

I do not work to deadlines unless you are a close friend of mine. If you need a commission by a certain date, then please be sure to commission me at least a month before this date, giving me enough time to complete it. This does not mean that you cannot let me know a date that you want the commission by! I will try my best to meet it as long as it's not incredibly short notice (such as "I need it tomorrow").

You can track the progress on both your commission and my queue overall by checking out my Trello.


WHILST I'M WORKING


I give regular updates on commissions at every stage (sketch, linework, colour, shading, etc.) throughout the commission process, and I am happy to give updates if you message me on my Twitter or via Telegram. I am a full-time student and I can be very busy, but I endeavour to respond to messages within two working days!

Big changes to your piece can only be done during the sketch and linework phases, and please do try your best to mention everything that you would like changing during these phases. Once I have entered the colouring phase, changes to the linework will incur an extra £2 cost per change to compensate the extra time taken to not only switch up the linework, but to change the colouring as well.


CANCELLATIONS & REFUNDS


If you wish to cancel your commission at any stage, you may. Refunds can only be given up until the stage the commission has reached. If the commission is only at the sketch stage, you will receive a full refund, but if your cancellation comes through at the linework, colouring, or shading stage then you will be refunded up until the cost of each respective stage. The piece at the most recent completed stage will be sent to you and your commission will be closed.

I will not refund commissions that have been fully completed. If you are unhappy with the way that a piece has worked out, please discuss this with me and I will see what I can do regarding this.

You may not backcharge or force a refund via PayPal under any circumstances. If you require a refund, please come to me and we can discuss this. Please do this as soon as possible so I do not go too far into a commission that you no longer want.

If I find that your behaviour has been exceptionally bad (such as bigotry against sexuality, gender, race, religion, as well as falsifying bewares, harassing others, lying about your age, scamming, etc.), your commission will be refunded and cancelled without warning. The piece will be changed and resold as a YCH, and you will also be added to my blacklist, and your information will be shared with other artists who may or may not also blacklist you.

I reserve the right to cancel and refund a commission up until the stage at which I have completed it at any time, for any reason. You will receive the commission at the stage that has been completed and your commission will thereafter be closed.


ART TRADES


I am extremely selective when it comes to art trades, and I reserve the right to reject a trade for any reason. However, if I do accept your trade, I will wait for you to complete your half of the trade first before I begin mine or take it beyond a sketch (this is to my discretion). This is because I have been caught out before, and have done free art for people who then disappeared or just traced one of my pieces for their half.

If I approached you for the trade, I will complete my half first.


GIFTS


If the artwork you're commissioning is a gift for someone, please let me know and I will add your commission to my trello as an anonymous card, with a vague description of what you have asked for. I will also not post the completed artwork to any of my social medias until the artwork has been gifted to the person, unless you have requested otherwise.


FRIENDS AND FAMILY


I do not offer a friends and family discount for my artwork. I do, however, offer a free rush option and your commission is likely to be worked on first. Commissions from friends will usually be used as warmups before other commissions, and can be completed over multiple days.


SALES


I will have sales throughout the year, usually around Christmas, where all of my commissions can be ordered for up to 20% less. These sales will be announced on my Twitter, and the prices on the current form will reflect this.